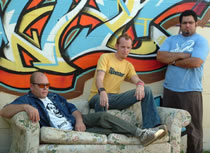 Thriving in the tropical tourism city of Cairns in North Queensland, is one of Australia's most unique and exciting Artist Run Initiatives (ARIs), The Upholstery Contemporary Arts.
In 2001, in an effort to address the shortfall in exhibiting opportunities in Cairns, a small group of like-minded emerging artists - Sophie Cadman, Charles Street, Simon Tait, Samuel Tupou and Daniel Wallwork - formed a temporary alliance. The basic aim was to exhibit and strengthen each other's practice and, along the way, to stage an exciting and unforgettable 'exhibition/event'.
The group adopted Charles Street's studio name, The Upholstery, coined due to his use of upholstery materials and techniques, and moved into Simon Tait's studio/shop-front, the Blue Room. The soon-to-be-demolished Blue Room allowed the group to shape space to suit the artworks' needs and the artists' desire to experimentation. This freedom meant that the ARI could follow a clear path, of playful, yet edgy, art, differentiating it from established, traditional galleries and the many 'reef and rainforest' images associated with Cairns.

The non-traditional approach has also included not wanting to become too bogged down in an organizedstructure and traditional official roles associated with arts entities. A flexible framework was established to encourage all five artists to gain informal professional development opportunities through the shared roles of director, curator, grant writing, marketing, installation and catering.
From July 2001 till May 2002 Upholstery Series (1,2 &3) and RADF funded series, The Humid Condition (This is not a White Christmas, Clash & Rising Damp) were held in the Blue Room space. The group exposed Cairns' audiences to 12 of the North's freshest, emerging visual artists and various musicians before the 'wrecking ball' of tourism turned the temporary premises into a backpackers hostel.
By mid 2002, the official face of The Upholstery was developing, with Charles Street becoming sole director and the establishment of an office at the Tanks Arts Centre (Cairns). Moist – exploring taboos featured 13 artists and attracted a crowd of over 600. This was followed by the RADF funded series Cushion - Cushion Digitale & Bubblegum Bourgeoisie.
The rapid growth in the first year and a half, meant that the core group was able to develop on-the-job professional skills quickly and begin to guide and assist other early career artists with presentation (hanging, lighting), CV and grant writing, digital design (invitations, posters) and media skills.
Early 2003 saw Daniel (Wally) Wallwork take over as Director, evolving The Upholstery into a 'virtual group', independent of the confines of a building or space. A new identity was developed, along with a web site (www.theupholstery.com), to reflect the sharp, consistent strength of works and shows being produced and to represent involved artists at a more professional level. Businesses and organisations were actively targeted to sponsor or support operational requirements.
The 2003 highly successful RADF funded Urban Sprawl series of shows, Essence, Hi–Way – Honk if you're cultured!, Sideshow, Suburban and Industria began in March, involving 28 artists and establishing the now renowned, site- and art-specific, one-night-only, 'Upholstery experience'.
The 'Upholstery experience' model involves publicly calling for expressions of interest from local artists for works relating to a theme; assessing submissions and curating selected works; finding a thematically-related venue; involving local bands and DJs whose style worked with the show; transforming the space into a non-traditional gallery; and engaging a minimum of 200 people to interact with 12 to14 artists on average per show.
Supporting the creation of these exciting events is a production team involving Assistant Director Simon Poole and a dedicated team of artists and volunteers.
As recently as October 2005, Last Drinks – Australiana in a Blender was staged as an 'Upholstery experience' in Cairns' only remaining wharf front pub. The historic Barrier Reef Hotel was transformed with works by 16 emerging artists, commenting and reflecting on the demise of much of Australia's homegrown culture and the 'commodification' and repackaging of other parts of that culture.
A local Oz rock/funk band, DJs spinning classic Aussie hits, the TAB on the multi-screens, a supportive venue management and topless girls selling raffle tickets (part of the pub's Friday night aesthetic!) combined with 700+ people in one night, produced an arts experience like no other.
The group has provided its own solutions to the problem of regional isolation by not relying on a limited number of established venues or organisations to showcase and promote their work. If anything, The Upholstery has turned isolation into an advantage through producing individual and collaborative works that are specific to the area in which they are based.
In late 2003, Urban Tropics a RADF funded collaborative show with Kick Arts (Cairns) opened the door for the group's first inter-state interaction, with seven Upholstery artists traveling to Melbourne to exhibit at Platform Space (Flinders St Station) Following some vigorous networking with galleries and other ARIs, group was invited to participate in the Melbourne's 2004 Next Wave Festival.
In 2004, four large exhibitions - Da Graff Show, Controversy - who decides? Overnight and Takeaway were shown locally. The Graff Show was the first multi-genre street art event to be held in Cairns. It involved graffiti artists, stencil, sticker and poster artists, DJs, breakdancers and an MC battle. Controversy was held in the now demolished House Artspace on Grafton St and Overnight settled in to the Captain Cook Backpackers with its 'iconic' 10m tall statue of Captain James Cook.
During the year, seven artists traveled to Brisbane for a major retrospective of works featured in Upholstery exhibitions over the previous three years. The Humid Condition openedat the Institute of Modern Art in July, with 2005 seasons at Umbrella Galleries (Townsville) and The Tanks Arts Centre (Cairns). Last Drinks – Australiana in a blender was the only new major exhibition for 2005, with the audience size and response being massive.
In the five years since its first 'exhibition/event', The Upholstery has developed a distinctive style that is characterized and driven by life in a tropical environment and a proximity to the Western Pacific region.
It has successfully nurtured, produced and promoted artwork from a distant location and developed a central role in Cairns.
Involving over 70 different emerging artists and arts professionals the group has constantly challenged the established contemporary visual arts sector, ensuring a vibrant Northern arts dialogue.
Daniel (Wally) Wallwork
Director